Product Information Management (PIM) is a complete solution for managing product data, especially for the production of sales and marketing content for all channels.
With PIM, you know you are using the most up-to-date detail. From specifications to prices, and from customer service information to SKUs.
All your product data is integrated into a single record.
PIM puts you in control over the completeness and accuracy of your product data, and provides a flexible way to create, manage, translate and syndicate product information for use internally and across all marketing channels.

PIM integrates all product data from any source to create a record that can be managed and updated easily. It then helps linking relevant content and resources to the product information. This data can then be used in all content processes across your organization.

PIM also controls and manages the automated update of approved content across all media, from websites and online shops, to mobile apps, print collateral and POS applications.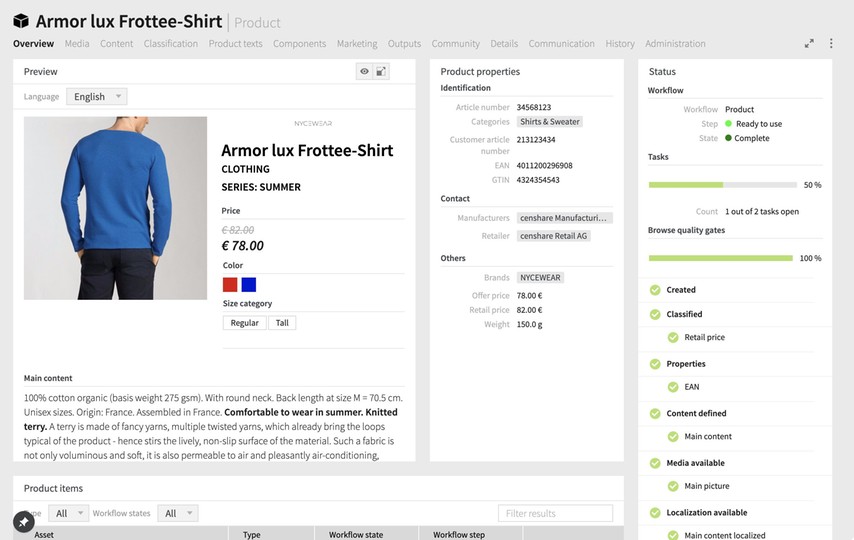 The overview page of censhare PIM shows essential product information including workflow status and quality gates. Additional tabs enable users to intuitively work with, for example, related media files, and to edit and manage product data. The integrated completeness check for each product helps users quickly assess which information is still missing from the product data.
| | |
| --- | --- |
| Product Data Integration | Interface to integrate data from any system through Pentaho Data Integration(also see Connectivity ) |
| Product Data Management: Manages all product information and relates them to product groups, families and variants, and links product data with media and product descriptions | Flexible product information structures | Changes to product data can trigger user notifications and workflows | In line processing of product master data | Connections to all media assets | Mass processing of product data | Process based automation | Manages product variants | Integrated editor for mass data editing |
| Product Data Quality: Checks the quality of product data to identify potential improvements | Checks the completeness of product content and uses individual approval processes for checking data | Configurable completeness checks, including quality gates and reports on quality gates | Integrated workflows | Versioning of all content |
| Product Data Export: Publishes product content directly from the PIM solution to communication channels, or transfers product information to external systems | Manual, partial or fully automated export to communication channels | Provisions product content to external systems via XML feeds and APIs |
| Product Classification Management | Product classification based on industry standard GS1 GPC (Global Product Classification) |