With omnichannel Content Management, content only needs to be created once and is 'media-neutral', allowing it to be adapted automatically for use anywhere – from online and print to point-of-sale and ATMs. This enables you to tailor your content at speed.
Automated and simplified processes reduce the technical skills needed for website and channel production.

Using the intuitive content editor, content is easily created in XML.

Based on templates, final content can be transformed to print, web, newsletters, and more.

censhare CMS provides a Content as a Service (CaaS) layer with the actual delivery into channels being taken care of at a later stage via functions that hand the content to partners, channels or service providers for further processing.

The flexible Application Programming Interface (API) also allows app developers to create omnichannel applications with ease. (See Headless CMS )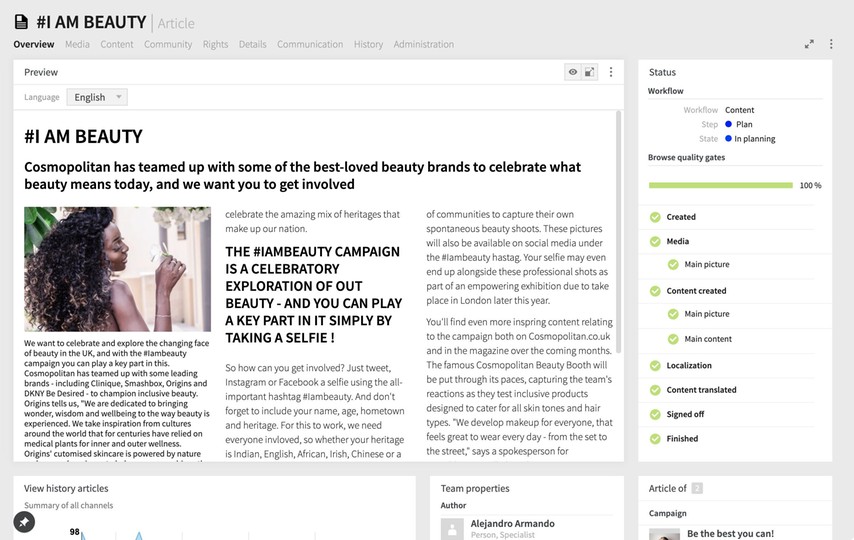 Content Management enables users to publish media neutral content to various channels using templates. The overview page shows a preview for the article, including its current workflow status and the Quality Gates.
| | |
| --- | --- |
| Content Management | Integrated content editor with output channel previews and word/character counter | Multilingual standard document structure based on XML | Variants for output channels with specific characteristics | Workflows, notifications and automatic processes | Process control from brief to design to production across the complete content lifecycle | Transform and export content to web, mobile, POS and print  | Flexible functions for content export to any other channel |
| Neutral Content (XML): Content is saved in media neutral, semantically labeled XML | Enables programmatic processing for different channels | Schema definition with RELAX NG, the high performance schema description language for document oriented content |
| Content Data Quality: Checks the quality of content data for identification of potential improvements | Checks the completeness of content and uses individual approval processes for checking data | Configurable completeness check | Integrated workflows | Versioning of all content |